Hood - Fur - Desert Beige
The way the human children look at you, you would assume they have never seen an elf before. Granted, it isn't often that you travel into cities. You prefer the tranquil sounds of the forest, away from the stench and chaos of busy human streets.One of the oldest garments known to humanityCommon fashion in medieval Europe, especially with a hood¶Affordable, personalized costume interchangeable with all other Epic Armoury gearMade from 78% Wool, 12% Polyester, 8% Nylon, 2% OtherMade from fabrics manufactured locallyHandmade by qualified professional. Measurements are approximations and may vary.¶As a tight weave fabric, this light canvas product is stronger and heavier than simple cotton. This material wrinkles easily, but can be ironed on a higher heat level. ¶Cleaning¶Machine wash at 30°C / 86°F. Wash separately the first time and with similar colours afterwards. Do not tumble dry! Lay the garment out flat to dry.¶
Upper: 100% wool, lining 100% cotton
This product is currently not available.
ships within 14 business days
The way the human children look at you, you would assume they have never seen an elf before. Granted, it isn't often that you travel into cities. You prefer the tranquil sounds of the forest, away from the stench and chaos of busy human streets.One of the oldest garments known to humanityCommon fashion in medieval Europe, especially with a hood¶Affordable, personalized costume interchangeable with all other Epic Armoury gearMade from 78% Wool, 12% Polyester, 8% Nylon, 2% OtherMade from fabrics manufactured locallyHandmade by qualified professional. Measurements are approximations and may vary.¶As a tight weave fabric, this light canvas product is stronger and heavier than simple cotton. This material wrinkles easily, but can be ironed on a higher heat level. ¶Cleaning¶Machine wash at 30°C / 86°F. Wash separately the first time and with similar colours afterwards. Do not tumble dry! Lay the garment out flat to dry.¶
Upper: 100% wool, lining 100% cotton
Reviews forHood - Fur - Desert Beige
Related products
More information aboutHood - Fur - Desert Beige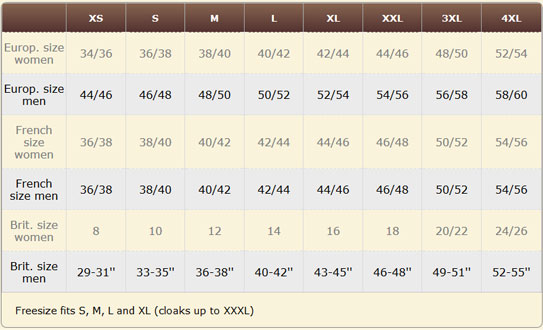 Approximate sizes. British sizes are for chest. Please ask for exact measurements for each product.